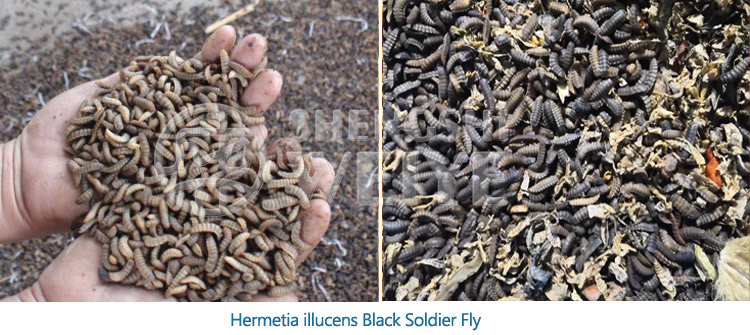 The black soldier fly, also known as the bright flat horned water fly, is an insect of the genus flat horned water fly of Diptera family, which is distributed in most parts of the tropics and subtropics of the world. Many of the biological characteristics of black water fly are suitable for the transformation of livestock feces, such as the decomposition of larvae, miscellaneous food habits, large food consumption, strong stress resistance, overlapping and elastic life history, high nutritional value of prepupae, migration characteristics before pupation, etc, The black water fly quickly emerged from a large number of Diptera insects and received extensive attention.
The content of crude protein was 44% - 48% and fat 34% - 35%, which was similar to or slightly higher than fish meal, meat and bone meal. The nutritional composition of black water fly is more comprehensive. It contains many kinds of amino acids needed by animals. The content of each nitrogen acid is higher than that of fish meal. The total amount of essential amino acids is 2.3 times that of fish meal, the content of methionine is 2.7 times that of fish meal, and the content of lysine is 2.6 times that of fish meal. The total contents of essential amino acids in the raw material and dry powder were 44.09% and 43.83% respectively, which exceeded the reference value of who.
At present, people are facing a grim reality: the global fishery resources have been exhausted by 32%. The decrease of fish catch leads to the decrease of fishmeal production, and then the price of fishmeal increases year by year. Researchers all over the world began to pay more attention to resource insects, the largest protein resource on earth. In 2012, the FAO of the United Nations and the European Union issued the "edible insect development report" and "sustainable use of insect protein resources", aiming to promote the industrial application of insect protein and reduce the dependence on fishery resources. In this context, the biological industry of black water fly, whose main purpose is to replace fish meal, has developed rapidly in the world.
Black water fly oil extraction equipment is to use oil press equipment for extraction - our factory uses pure physical pressing method to press black water fly oil, with simple operation, high oil yield and excellent oil quality. At present, it has successfully provided mature equipment and process for many customers, and exported the equipment to many foreign countries. Welcome to have this aspect demand customer to come to discuss.
Company profile:
Shandong Shengshi Weiye Machinery Co., Ltd. is a professional manufacturer of oil machinery and equipment, integrating scientific research, manufacturing, installation and debugging. Scale can be large or small, daily output of 1-2000 tons, can provide customers with overall design and special services, to provide users with first-class advanced technology and oil complete sets of equipment.
The service scope of our equipment includes: peanut oil, soybean oil, rapeseed oil, cottonseed oil, sunflower seed oil, linseed oil, walnut oil, hemp seed oil, coconut oil, palm oil, shea butter, animal oil, etc.
The company has a special international trade department with independent import and export rights. The equipment has been successfully exported to more than 50 countries and regions such as Russia, Australia, India, Afghanistan, Cameroon, Nigeria, Iran, Russia, etc.
Shandong Shengshi Weiye Machinery Co., Ltd. solemnly promises to the majority of users: we must make great efforts to provide you with excellent equipment and all-round high-quality and thoughtful service, so that you will be fully satisfied and worry free; We are willing to cooperate with all customers sincerely and create brilliance together.